2020 MAZDA CX-30 Specs

When Mazda specs become available, people listen. Drivers know that when they choose a Mazda, they enter a world of elegance, class, and performance. Nothing could be closer than the truth with the Mazda CX-30 specs. Innovation starts with its design, technology, right down to its performance. Therefore, whether you are commuting near Hawthorne or shopping in Manhattan Beach, the Mazda CX-30 is for you! At South Bay Mazda, we will get you behind the wheel of a new CX-30. Give us a call to set up an appointment!
2020 MAZDA CX-30: Key Specs
To make an informed car-buying decision, you need to know the critical specs of the Mazda CX-30. Let's take a look at its performance, interior, and technology:
Performance
The Mazda CX-30 engine is robust with 186 hp and 186 lb-ft of torque.
Along with power comes an all-wheel-drive that improves handling.
You can capitalize on efficiency and performance with its Skyactiv® Technology.
Interior
The interior design of the Mazda CX-30 is fresh, clean, and classy. You will have plenty of space for passengers and cargo!
The seating inside the Mazda CX-30 maintains the natural S-curve of the spine. A seating design that reduces fatigue and improves comfort for all.
Technology
The Mazda CX-30 specs would not be complete without advanced technology. Inside, you will find an updated sound system and i-Activsense® safety system.
A Mazda SUV that keeps you safe and connected while on the road.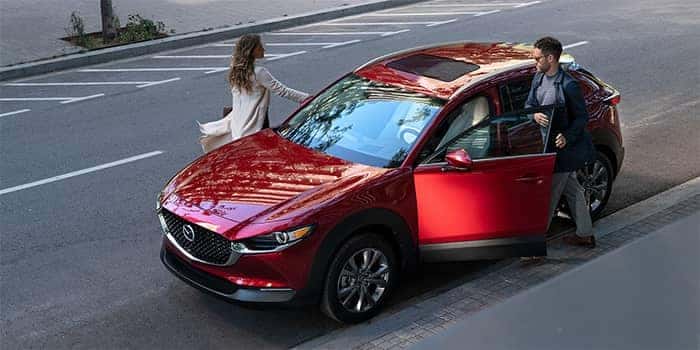 2020 MAZDA CX-30 Development
If you are ready for a vehicle worthy of praise, the Mazda CX-30 is an excellent choice. The Mazda CX-30 is built with confidence; it is sleek, classy, and ready to perform. The 2020 Mazda CX-30 is its second generation. You can expect new upgrades that make the Mazda CX-30, smarter, faster, and more desirable. Whether you are a professional or a growing family, the Mazda CX-30 offers you more than an average SUV.
2020 MAZDA CX-30 Reviews
The critics have spoken about the 2020 Mazda CX-30, and the reviews are in Redondo Beach drivers. Hear what others say about the Mazda CX-30 specs, the Mazda CX-30 engine, and much more.
MotorTrend: "Newcomer to the Mazda lineup feels like you spent more than you did."
Autoblog: "Sharp in style and sharper to drive, the CX-30 is a sporty compact car in a crossover body."
Consumer Reports: "A luxurious cabin and attractive styling separate this SUV from the crowd.
Learn More About The All-New MAZDA CX-30 at South Bay Mazda
At South Bay Mazda, we pride ourselves on matching you with the right Mazda vehicle. Our team can assist with questions about our services, to help compare models like the Mazda CX-30 vs. Mazda CX-5, or Mazda CX-30 vs. Mazda CX-9, learn about Mazda CX-30 lease deals, and financing, ask us! You can call or set up an appointment on our website. Let's drive into the future, together.
More From South Bay Mazda