---
Where is Mazda from? Mazda is a Japanese company. Its flagship plant began producing its first vehicles in 1920 at the Fuchu, Aki District, Hiroshima Prefecture. Mazda actually began as a producer or 3-wheel motorcycles known as "Autorickshaws." Following that, the brand grew to produce motorized carts, and took the lead with technologies that helped chart the course for the industry.
Redondo Beach drivers who are curious about the Mazda origin story, read on for a thorough breakdown of Mazda history and an overview of what country Mazda cars are made in today. Be sure to explore our Mazda research guides for more interesting reads about this storied brand while you're here!
Who Owns Mazda Motor Corporation?
Curious to know who owns the Mazda Motor Corporation? Japanese industrialist and businessman Jujiro Matsuda founded Mazda in 1920 in Hiroshima, Japan. You may be surprised to find out that Mazda was known originally for their 3-wheeled carts! Mazda brought out its first passenger vehicle in 1940 and built its lineup in response to market demand for affordable cars, with more compact designs for cars, trucks, and three-wheeled vehicles. These new models spurred the creation of the legendary Mazda rotary engine in the early 1960s.
What Country is Mazda Made In?
Now that Manhattan Beach drivers know about where Mazda is from and some key details about the Mazda origin story, let's take a look at where Mazda models are produced today. While Mazda is a distinctly Japanese company, it's produced all over with 3 Mazda manufacturing facilities in Japan, and several more in North America. Two Japanese plants are located in Hiroshima, Japan with a third in Hofu, Japan. North American models are produced by the Auto Alliance International facility in Flat Rock, Michigan, and the Kansas City assembly plant in Claycomo, Missouri. Curious about where specific Mazda models are manufactured? Check out the guide below:
MAZDA3 Models — Mazda3 models are produced at the Japan facility in Hofu, Yamaguchi, Japan. Engine and transmission production for these models takes place in the Hiroshima plants.
MAZDA6 Models — The North American facilities, co-owned by Ford, take care of these models. You'll find one in Flat Rock, Michigan and the other in Claycomo, Missouri.
MAZDA5 Minivan, MAZDA CX-5, MX-5 Roadster, RX-8 — These models are made in the Hiroshima facility in the Miyoshi ward. This location focuses on performance Mazda models.
Mazda SUVs and Sedans — The rest of the Mazda lineup is produced in Mazda's Japanese plants.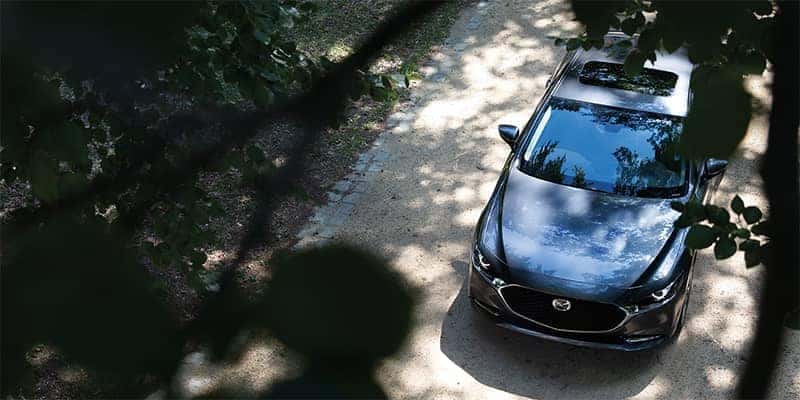 Discover Your Favorite New Mazda Vehicle at South Bay Mazda!
We hope you enjoyed our answer to "Where is Mazda from?" At South Bay Mazda, we're proud to serve the Manhattan Beach and Hawthorne areas with a wide variety of Mazda vehicles at a great price — and lots of useful info! If you're browsing through your options among the Mazda locations in Los Angeles County, we hope that you'll choose South Bay Mazda.
We're located in Torrance, CA, and our sales staff are on standby to answer any questions you might have about any remaining questions you might have about the Mazda origins or what country Mazda is made in. You can call us at (310) 974-8177 or contact us to arrange for a test drive. Be sure to explore our site for other informative overviews like our guide on the differences between buying vs. leasing your next Mazda vehicle!