Hand Car Wash vs. Touchless Car Wash

---
If you really want your car to shine on the Redondo Beach roads, there's nothing like a good car wash! But if you're getting ready for spring cleaning, should you choose a hand car wash or a touchless car wash for the best results? Both methods will get rid of dirt and debris, but there are pros and cons to either method. Find out which car wash you should choose with South Bay Mazda with our guide:
Hand Wash Car Wash
Does your car need a more thorough cleaning? Many Manhattan Beach customers prefer the extra TLC that comes with a proper hand car wash. Whether you choose to wash your car yourself or bring in a pro from our service department, the results can be showstopping.
Hand Car Wash Pros
Extra Care: When you're using your own eyes to wash your car, you can be sure that every inch is spotless – including small crevices and undercarriage spots that machines might miss.
DIY Cost: If you invest in your own supplies, cleaning your car by hand at home can be extremely affordable!
Hand Car Wash Cons
Pro Cost: If you take your car to a detailing specialist, you might pay a little more for the extra care and the specialty facilities
Damage: It's very important to know the proper techniques for a hand wash car wash and in the wrong hands, your car paint could potentially become damaged.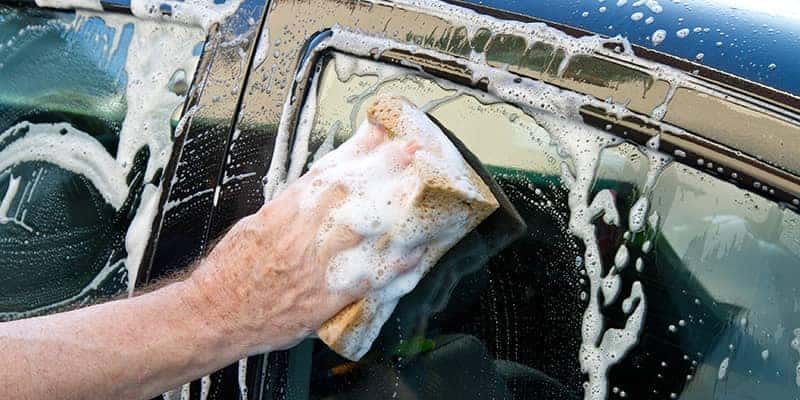 Touchless Car Wash
When you don't have the time for a hand wash car wash, a hands-free car wash is the perfect solution. These automatic car washes use machines to provide a touchless car wash that's effective and convenient for the driver on the go in Hawthorne.
Hands Free Car Wash Pros
Convenient: A touchless car wash is designed to work quickly, so you can get your car clean in just a few minutes.
Affordability: Because you don't need to invest in supplies or pay for manual labor, a hands free car wash is extremely budget-friendly.
Hands Free Car Wash Cons
Surface Cleaning: While a hand wash car wash is very thorough, a hands free car wash isn't nearly as deep. It may be gentle on your paint, but it isn't as effective overall.
Water Spots: Even after you've been through the touchless car wash, you might have water spots on your finish that the dryer couldn't get.
Find Out More with South Bay Mazda
Not sure if you should wash your car by hand or find a touchless car wash in your area? Feel free to contact us at South Bay Mazda for personalized recommendations, to learn how to jump start a car, and more. Whether you need to pick up supplies or schedule a service, our team is happy to help in Torrance!
More From South Bay Mazda
What is the 2023 Mazda CX-5 price? What about the different Mazda CX-5 trim comparisons? The new Mazda CX-5 for sale at South Bay Mazda has several trim levels to explore, making it easier for you to find the configuration better suited for handling your Redondo Beach commute and weekend errands. Learn more about the different Mazda CX-5…

The newest iteration of the Hawthorne area beloved Mazda CX-5 is an efficient, powerful, and stylish SUV that features a new, head-turning design on the outside. But, what of the inside? If you're looking for an SUV with incredible performance, comfortable spaces, and more than enough cargo room, the Mazda CX-5 may be the way…

If you're thinking about buying a new vehicle, and you find yourself in the market for one with real leather seats, you'll be happy to know that many Mazda models, including the Mazda CX-5 Signature, Mazda CX-9 Signature, Mazda6 Signature, and certain Miata coupes have just what you are looking for! Not only do they…